Custom Area Rugs
If you're looking for a way to add instant interest and a burst of color to a room, there are plenty of beautiful area rugs available at Bachmeier Carpet One Floor & Home in Coralville, IA. These rugs can transform the appearance of any room and often complete the design of a room.
Options For Every Room
One great feature about an area rug is the versatility of designs, shapes, colors and patterns. With this versatility, there really is something for your room. Whether you want a large, circular rug for under a dining room table or a runner rug for a hallway, there is certainly something to fit your needs.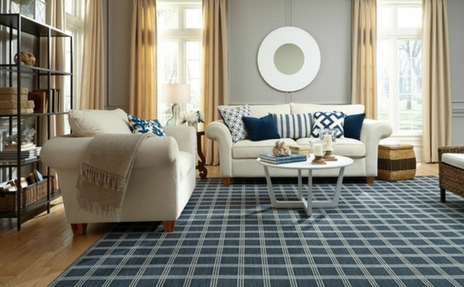 Different Constructions
Area rugs can be woven from a wide variety of materials. This often depends on how much you are willing to pay for the rug, where it is from, and how you intend on using the rug. Wool rugs are some of the most common, yet cotton rugs are especially soft and casual. Microfiber rugs have grown in popularity and provide an even softer feel. If you want something designed more for a luxury look or feel, you should look towards silk area rugs.
Functional Rugs
Beyond look and feel, area rugs can prove functional as well. For starters, if you live in an apartment or condo and want to protect sound from traveling down to the area below, an area rug can help, especially if you have a wood or tile floor. Area rugs can also reduce the amount of dirt that collects on the floor, regardless of if it is a solid wood floor or carpet.
Shop Area Rugs

If you are looking for a new area rug for your home, then look no further than our Rugs.Shop website! There are thousands of options for you to choose from that range in style, size, price and more.