Best Window Treatments
Windows do so much for a room. They can help break up a long wall, bring in natural light, and offer a point of interest. However, a plain window may expose your home to the outside world, not to mention it doesn't look all that great at certain times of the day. In order to dress up the window and to make sure you have the necessary privacy, you need to invest in beautiful window treatments. With plenty of options and designs available to you, there is something that will fit your budget and style needs.
Shades and Blinds
The first step in deciding the right type of window treatment is to determine how much light is necessary. Many hard window treatments do well to regulate light in a room. Some can completely block light, while others only diffuse the light. Blinds, for example, can regulate light, while shades are more appropriate for completely blocking light.
Hard window treatments not only block light; they can muffle outside noises as well. So, if you want to keep your rooms private and quiet, hard window treatments might be the best bet.
For design purposes, soft window treatments are a great choice. They are typically made from fabrics, and while they are not best for regulating light, they do add to a room's style and design.
Visit Bachmeier Carpet One in Coraville, IA to learn more!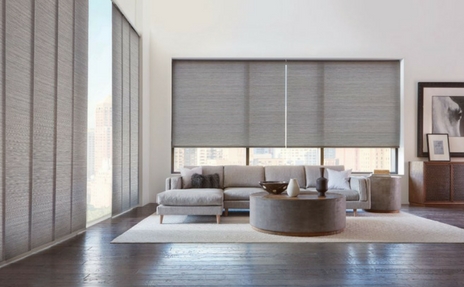 Window Treatments
Best Window Treatment Brands

Learn about Hunter Douglas, Lutron, and Graber window treatments.

Blinds for Windows

Blinds come in an array of styles to choose from. There are vertical blinds, venetian blinds, even faux wood blinds. They assist in keeping your home private and regulate light.

Shades for Windows

The most popular type of shade is a cellular or honeycomb shade. They are great for blocking light, assisting in keeping your home energy efficient.